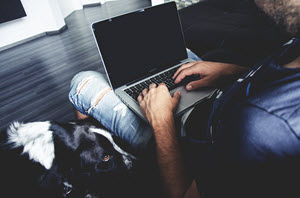 According to Global Workplace Analytics' 2016 study, 3.7 million employees now work from home at least half the time. In fact, the amount of individuals who work from home has grown 103% since 2005. While working from home brings a number of benefits, like cutting out the long commute to work, providing a quieter atmosphere and creating for greater productivity; it's important that cybersecurity remains top of mind.
If your job allows you to work remotely, consider the following:
Create strong passwords that use a combination of numbers, letters and special characters on your work and personal accounts. Avoid reusing passwords. If one of your accounts become compromised, your other online accounts where you used the same credentials are also at risk.
Add an extra layer of security to your work and personal accounts with two-factor authentication, if possible.
Ensure your work and personal devices are up-to-date with the latest software. Don't ignore software updates, as these typically address security vulnerabilities.
Work with your company's IT department to set up a virtual private network (VPN) while working remotely. Avoid accessing sensitive information while on public Wi-Fi or unsecured networks.
Follow your company's policies and procedures for working off-site. Understand what security risks may affect you and your company.
For more cybersecurity tips, keep up with our blog.