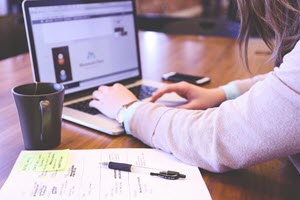 Children are lucrative targets for identity theft because of their clean credit. In a report by Carnegie Mellon CyLab, 10.2 percent of children had someone else using their Social Security number (SSN). Identity thieves can cause serious damage to a child's credit with the use of a single identifying element: SSN. A child's SSN can be used to open bank accounts, apply for loans, rent an apartment and much, much more. Since it is uncommon for a child to check their credit report before the age of 18, most theft goes unnoticed for years.
How can kids stay safe? In preparation for the coming school year, we've gathered a list of cybersecurity best practices for all education levels and ages.
College students are one of the most tech-savvy demographics. But their always on, always connected way of life may pose a risk to their identity.
Practice safe password habits. Create a combination of letters, numbers and special characters, and avoid reusing passwords across multiple sites, like school logins and social media sites.
Exercise caution on public Wi-Fi. While it may be convenient to connect to public Wi-Fi while at your favorite coffee shop, consider using a virtual private network (VPN) or hotspot. Avoid accessing sensitive information or make purchases over an unsecured network.
Remain alert in the physical world. With little privacy, and even less space – between crowded dorms, classrooms and libraries – college students are at risk of "shoulder surfing" or having their laptop stolen. Invest in desk lock for your laptop, and consider a privacy filter for your computer screen.
Similar to college students, middle and high school students are some of the earliest adopters of new technology. Parents, encourage safe online habits and be mindful of the following.
Avoid oversharing on social media. Teach your children about the ramifications of being online, and to keep their personal information secure. Examine their privacy settings on social media and ensure public settings are turned off.
Keep tabs on new apps and games. The latest video game or social media app could be sharing more information than your child intends. Understand the technology your child engages with and review privacy policies to understand what data is being shared, stored and collected.
Importance of an online reputation. Start a conversation with your kids on the consequences and dangers of cyberbullying. If victimized, involve their school or law enforcement if necessary.
It's never too early to start a conversation with your kids. Elementary school students are likely already using technology for school or play. Parents, make sure your kids are aware of the dangers of being online, and how to keep their personal information secure.
Talk to your kids about privacy and security. Teach your children about what types of information should remain private, like SSN and home address. Discuss the importance of safeguarding this information both online and off.
Keep your child's SSN under wraps. If prompted for your child's SSN, ask why. Most organizations do not need your child's SSN with the exception of government services, healthcare and insurance.
Keep an eye on identity theft signs. If your child receives collection calls or bills for products or services you didn't receive, it could be a sign of identity theft. Take action immediately.
These simple, yet vital tips can help keep your kids – and the entire family – safe all year round.