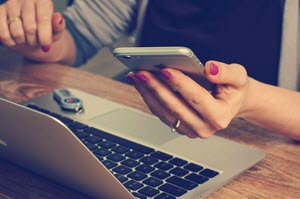 The use of mobile devices is increasingly present in the wedding planning process. Brides are using their smartphones as a tool to work with vendors, manage their registry, reserve hotel blocks and more. With technology taking over this process, it's important that privacy and security is still top of mind.
The National Cybersecurity Alliance and STOP.THINK.CONNECT recently shared some helpful tips that brides – and everyone for that matter – should vow to follow. Below are ones we feel particularly strongly about:
Password Practices: With so many wedding day details, chances are you're dealing with a number of online vendors. Create unique and complex passwords for these accounts. For tips on creating strong passwords, check out our blog post on the topic here.
Social Sharing: While tempting to post pictures on your honeymoon, this can alert criminals that you are away from home. We've talked about this before on the blog. Wait until you're home to post.
Wi-Fi Woes: Think twice before connecting to public Wi-Fi (or an unsecured network) when you're at the airport or local café, especially if you need to make a purchase to access sensitive information. Consider using a Virtual Private Network (VPN) or using your phone as a hotspot.
We hope you say "I do" to these tips. For more ways to live happily ever after online, check out the full list of tips for digital bliss from the National Cybersecurity Alliance and STOP.THINK.CONNECT.