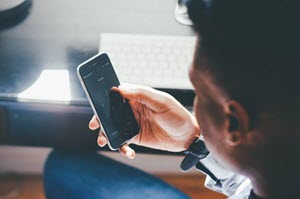 This year's NCAA tournament proved to be extra exciting with the number of upsets and the first buzzer beater in college basketball championship game history. Many people stayed up-to-date with the tournament via their mobile device. If you followed the excitement on the CBS Sports app, take note of the below.
Mobile security firm Wandera discovered a data leak on the CBS Sports app and mobile website during March Madness. User data may have been potentially compromised, including names, birth dates, email addresses, account passwords and postal codes. SSNs and credit card numbers were not compromised, however.
Wandera made the discovery accidentally while doing research on sports apps prior to the NCAA tournament, and found the app and site weren't properly encrypted – a hot topic currently, especially in the wake of the Apple and FBI battle.
To be clear, Wandera is not suggesting an actual breach occurred, just that the data was not properly encrypted. CBS Sports has denied a data breach happened at all, and claims to rigorously monitor and test its platforms for potential issues.
Hackers are particularly attracted to large events, like the NCAA tournament, that draw in a lot of traffic to sites or mobile apps. While businesses need to take extra precautions in times like these, consumers should also be diligent in protecting their personal information. Here are a few mobile security tips:
If you used the CBS Sports app, change your password immediately. Create long and strong passwords by using a mix of special characters, numbers and upper- and lower-case letters.
If you reused the same password and username combination on other sites, change those passwords too.
Always ensure your mobile device's software is up-to-date. This way, your devise always has the latest security patches in place.
Following these simple, yet critical tips can help safeguard your personal information, and may even help you avoid an identity theft event.